Why Relationships Fail: Advice From a Top Divorce Lawyer
Patterns is a weekly idea or story for people who don't want to hate Mondays.
If you are just now finding out about Patterns, you can subscribe here! If today's idea inspired you to better enjoy your work, please forward this email to your friends or share it on social media! 🙏
---
Today's idea is more about what doesn't work than what does. James Sexton has handled over 1000 divorce cases. He shares everything he's learned in his book, How to Stay in Love: A Divorce Lawyer's Guide to Staying Together. A key highlight from the book applies to much more than just marriage.
I have learned, over and over, that marriages and other committed relationships fail for two fundamental reasons.

You don't know what you want.

You can't express what you want.

End of story.
Not knowing what you want or how to express what you want is destructive to marriages. This is also true for other relationships like Company-Employee, Manager-Employee, Parent-Child, School-Parent-Student, Friend-Friend, and even your relationship with yourself.
One of my favorite questions to ask people is, "What do you really want?" Being able to answer that question for yourself and then express that answer to others will make you more happy and successful.
Career Development is a hard conversation. Often, we either don't know what we want or don't feel comfortable expressing what we want to our manager. And that assumes the conversation even happens at all. Trying to make a single conversation better can be tough. And scaling good career conversations at a company is particularly challenging.
So how can you actually get better at this?
Taking time to reflect on what matters to you and having a safe way to talk about it can make this happen more frequently and with better results.
I've been working on a new physical product to help people experience better career conversations. The goal is to build confidence about the future and makes your current job more fulfilling. Career Cards launches in September. The card deck exercise will include a conversation guide and actionable mini-course.
Here's one design we're considering for the deck: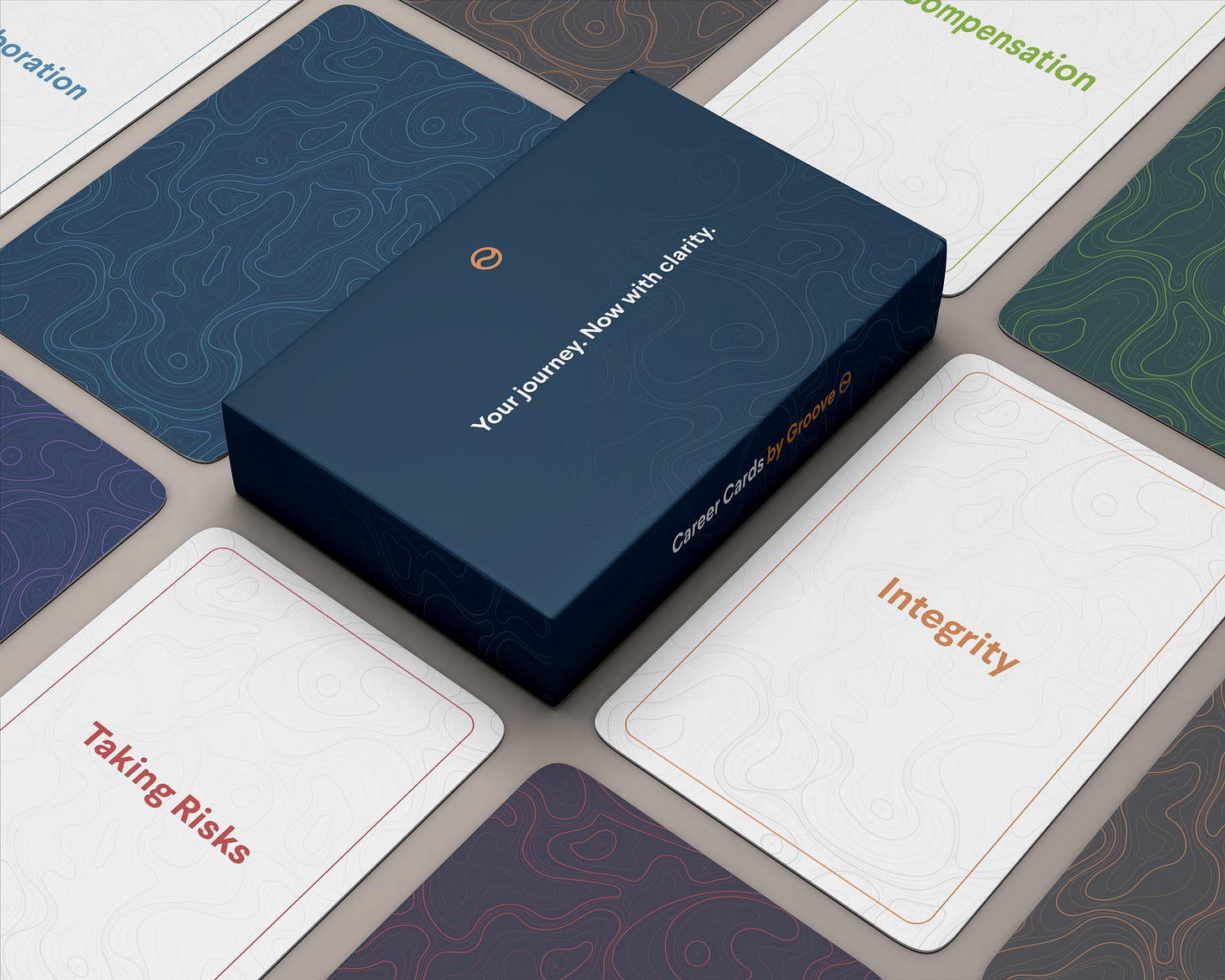 I've had 37 conversations over the past two weeks. Almost every person I speak with agrees that it can be daunting to figure out what you want and then talk about it. There is power in defining success for yourself instead of letting the world tell you what matters. And being able to hold and move cards as a way to consider matters most is liberating.
This has lead to many positive reactions. It's exciting to see people already asking to pre-order, including folks at places like Intuit, DoorDash, and Utah State University. The prospect of having a tool (especially one that you can hold in your hands vs just view on a screen) is exciting. Having a clear path forward is like getting a rope, harness, and climbing holds to scale a rock wall.
If you haven't yet seen a demo and would like to, reply and let me know. Also, if you know someone who cares about employee development or employee experience, I would appreciate an intro.